INTRODUCTION:
The pain from a wisdom tooth infection (in most cases, it would be due to pericoronitis) is intolerable.
The wisdom tooth infection appears between a wide range of age groups for various reasons. So, let us know the different causes of wisdom tooth infections and their remedies.
Out of all the possible causes, the most common cause of wisdom tooth infection is pericoronitis.
WHAT IS PERICORONITIS AND ITS ASSOCIATION WITH WISDOM TOOTH INFECTION?
We all know that we have four wisdom teeth in our mouth—one on the upper right side, one on the upper left side and the same on a lower arch also.
Take the first step to a better Oral health!
Get tips on Oral health and discover ways to improve your Dental health. Sign up today
Subscribe to Blog via Email
Wisdom tooth infection reflects infection in the 3rd molar. On the other hand, PERICORONAL FLAP is a thin gum tissue retained over the erupting 3rd molar. The infection in the PERICORONAL FLAP is called pericoronitis.
All wisdom tooth infections may not lead to pericoronitis. But most wisdom tooth infections are associated with pericoronitis.
I know you are confused! So read this article till the end to have a good understanding.
PERICORONITIS IN DETAIL
During the eruption of the 3rd molar, the tooth tries to erupt in periodic intervals. It means the teeth exert pressure on the bone for one week; then, it will enter a resting phase for 2 to 3 weeks, and the same mechanism repeats.
Whenever the teeth exert pressure on the bone, the patient feels pain. It is the reason why you may not feel continuous pain from wisdom teeth.
The initial feeling of pain due to the onset of tooth eruption is known as acute Pericoronitis. But, as the pain recurs, again and again, such condition is called chronic pericoronitis. Remember, acute infections heal faster than chronic ones.
The patient might feel pain for a few days, after which he/she might not feel pain at all. And then, a relapse of pain can be expected after a week or month.
During the eruption stage, the wisdom teeth might not fully erupt and may still have a thin, soft tissue covering over it, which is called PERICORONAL FLAP.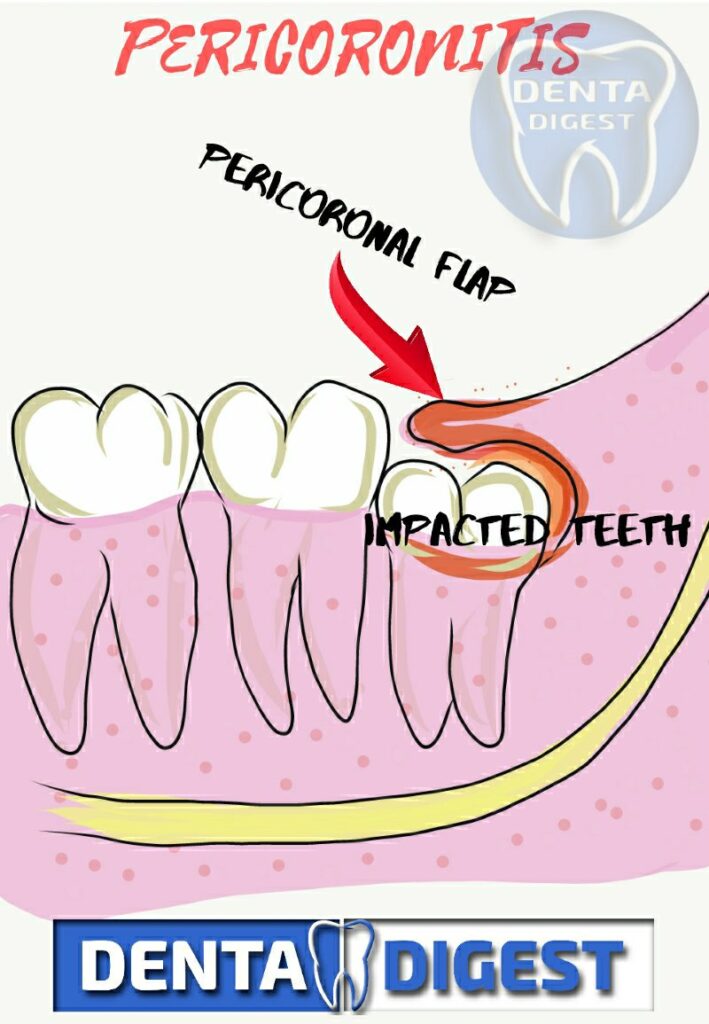 Infection in the gum tissues around the wisdom tooth is called pericoronitis.
In other words, Infection in PERICORONAL FLAP is called pericoronitis. There are various reasons for pericoronitis.
During tooth eruption, the PERICORONAL FLAP will be inflamed and cause pericoronitis.
Food might entrap under the PERICORONAL FLAP, causing infection leading to pericoronitis.
Infection from a damaged or caries affected wisdom tooth might spread to PERICORONAL FLAP, causing pericoronitis.
HOW DOES PERICORONITIS CAUSE WISDOM TOOTH INFECTION?
Pericoronal flap provides a potential space between teeth and soft tissue. This space usually gets filled with food debris. If such a condition is unattained, it might progress to caries formation within the tooth leading to wisdom tooth infection.
In addition to it, severe cases of pericoronitis cause pus accumulate beyond the pericoronal flap. Such a condition is called pericoronal abscess or wisdom tooth abscess.
So, If these conditions are untreated, the pus may drain beyond the teeth leading to pus accumulation around the tooth. And, such condition is called a periodontal abscess.
HOW DO I KNOW THAT I HAVE PERICORONITIS?
First of all, here are a few clinical features which might help you in identifying pericoronitis symptoms.
Patients with pericoronitis should have impacted wisdom teeth (partially erupted wisdom teeth).
In addition to it, the gingiva around the 3rd molar will be red with swelling.
Patients might feel tingling sensation or discomfort around the 3rd molar.
Moreover, patients might sense food lodgement in the 3rd molar region.
In severe cases, patients might feel an altered taste sensation in the region of the 3rd molar.
In a few cases, patients might feel some interference while biting. They might sense something in between teeth while eating in the region of the 3rd molar.
In addition, pain while swallowing and difficulty in mouth opening are common findings.
But, pain while eating sweets is not a common presentation. If such a presentation is observed, note that there would be a change of deep dental caries in the teeth along with pericoronitis. Such conditions may not be treated with root canal therapy.
Due to excess food lodgment in the 3rd molar, the patient might feel bad breath.
WHAT ARE THE RISK FACTORS OF PERICORONITIS?
People between the ages of 20 to 25 are more prone to pericoronitis.
Among them, people with unerupted wisdom teeth are more prone to pericoronitis.
Poor oral hygiene is a common risk factor in the young.
Pericoronitis in adult patients is due to compromised medical conditions like diabetes.
Pregnant women having impacted teeth are prone to pericoronitis due to hormonal changes.
WHAT ARE THE COMPLICATIONS OF THE INFECTED WISDOM TOOTH GUM?
Pericoronitis is a simple dental pathology, but if it is left untreated, it may cost you a lot.
Untreated pericoronitis may turn into abscess called as pericoronal abscess. In patients with poor oral hygiene, it may even spread into surrounding tissues resulting in life-threatening space infection called Ludwig's angina.
In severe cases, the pus may enter into the primary bloodstream leading to septicemia and septic shock.
Never underestimate the after-effects of untreated pericoronitis. It might lead to life-threatening situations, as discussed above.
PERICORONITIS HOME TREATMENT?
Many patients ask me, doctor! Can I have pericoronitis treatment at home? Of course, you can. But not in every case.
If you are young below 20, you can manage the infection at-home, hoping the wisdom tooth is healthy and normal. In most instances, this works out.
But if you are facing the same issue repeatedly, there might be a problem with your wisdom tooth also, which might require a dentist's intervention. Hence my advice is
If you feel the pain for the first time, try to treat it at home (if you want, but I would strongly recommend consulting a dentist).
If you experience repeated episodes of infection, have a dental visit for correct diagnosis and treatment.
There are many natural ingredients available to treat wisdom tooth pain. They work well in the initial stages. To know more about home treatment remedies or home management of wisdom tooth pain click here.
Maintain healthy gums. Natural oils like sesame oils aid in reducing inflammation in the gums around the wisdom tooth. To know more about maintaining healthy gums through diet click here.
TREAT PERICORONITIS AT HOME
Here are a few treatment options to cure pericoronitis at home
Brush your teeth regularly and use mouth wash thoroughly. Try to clean the wisdom tooth area with mouth wash gargle every day.
Moreover, avoid food lodgement or entrapment in the 3rd molar region.
In addition to it, avoid touching the pericoronal flap with your finger. I have seen many people touching the flap to sense the feeling of swelling in the wisdom tooth area.
Manage pain by taking over the counter painkillers.
Furthermore, warm salt water gargling might help in decreasing painful swelling in the region of wisdom teeth.
As alcohol causes a severe burning sensation in these patients, always use alcohol-free anti-microbial mouthwashes to clean your mouth. —BUY NOW
Similarly, Betadine throat sprays are an efficient way of treating infection in the oral cavity. They aid in decreasing the bacterial load in the region of wisdom teeth. —BUY NOW
Electronic Waterpik flosser is an ideal instrument that comes handy for maintaining good oral hygiene in the wisdom tooth region. We observed terrific results in patients with pericoronitis. It not only helps in cleaning the pericoronal flap but also helps in reducing irritation in the area. —BUY NOW
PRODUCTS I PREFER
Waterpick flosser
Alcohol-free Antibiotic mouth wash
Betadine mouthspray
WHAT TO EXPECT DURING YOUR DENTAL VISIT?
During the dental visit, your dentist might thoroughly examine the oral cavity for the probable cause of pericoronitis.
He might take an x-ray to see the position of the 3rd molar.
Following the radiograph, he may clean the teeth with a scaler.
In a few instances, he might advise for deep cleaning before confirming a specific treatment option.
PERICORONITIS REMEDY OR TREATMENT
Early intervention is a crucial factor in treating pericoronitis. The treatment options are.
Have an immediate dental appointment. In a few cases, medication for a week might help in the complete resolution of the problem.
In severe cases, surgical intervention might help in the resolution of the problem. Your dentist might advise the complete removal of the pericoronal flap. Such a procedure involves pericoronitis removal and is called CORONECTOMY. It is a minor surgical procedure where your dentist might remove the gum tissue above the wisdom tooth under local anaesthesia.
If wisdom tooth impaction is associated with infection of pericoronal flap, the possible treatment option would be complete removal of wisdom tooth.
PERICORONITIS TREATMENT COST
The cost depends on the treatment you opt for. Simple medication might cost you only consultation charges. But, other treatment procedures might cost you more.
For instance, removal of the pericoronal flap might cost you between $50 to $100.
Moreover, a simple wisdom tooth extraction might cost you between $100 to $200. On the other hand, surgical removal of impacted or unerupted teeth will cost you between $250 to $600.
WHAT TO EXPECT AFTER PERICORONITIS TREATMENT?
As discussed previously, your dentist might use any of the above methods to treat the infection.
After the treatment, your dentist might advise a few antibiotics and painkillers. Use them for the full term as recommended by your dentist. Never skip medication.
Moreover, repeated infection in the wisdom tooth region (even after the treatment other than tooth removal), should be considered seriously. Ask you, dentist, for a permanent cure. In most instances, it would be wisdom tooth extraction.
Usually, after wisdom tooth removal, the chances of pericoronitis is very minimal or nil. We can expect relief from pericoronitis for the rest of our life.
CONCLUSION
Pericoronitis is a common problem seen in young adults. But often it may turn out to be life-threatening.
Hence, proper diagnosis and treatment are vital for managing such infections.
Latest posts by Dr. Kiran
(see all)