DRY SOCKET
Do you know, the pain from a dry socket is much severe than tooth pain. Anyone who experiences it will warn you to be careful after extraction.
Almost 1 to 5% of routine extractions turnout into dry sockets. Moreover, 30% of patients with impacted wisdom teeth have to experience this after tooth extraction.

https://en.wikipedia.org/wiki/Alveolar_osteitis
WHAT IS DRY SOCKET
Dry socket is a condition where the clot from an extraction socket either dislodges or doesn't form at all. In medical terms, you call it as alveolar osteitis.
ALVEOLAR OSTEITIS VS NORMAL
A normal extraction site should have a thick cover over the socket filled with debris and blood clot.
The inner surface of the socket might not appear clearly. The gum tissue around the site will be pink in color with little signs of inflammation.
Take the first step to a better Oral health!
Get tips on Oral health and discover ways to improve your Dental health. Sign up today
Subscribe to Blog via Email
But, in the alveolar osteitis, you can see the bone within the site. The extraction site will be devoid of any cover.
The gum around the site will be swollen and red. [Read more on healthy gums…]
HOW COMMON IS DRY SOCKET
The following data is from an article published in "Open dental journal (https://www.ncbi.nlm.nih.gov/pmc/articles/PMC3089956/)".
The overall frequency is 3.2%
Only 1.7% of cases lead to the dry socket if the extraction is non-surgical.
On the other hand, a wobbling 15% of cases lead to alveolar osteitis if the extraction is surgical. Here bone cutting is a standard procedure. Remember, it usually happens during the impaction or removal of wisdom teeth.
If you are a smoker, you stand a higher chance (12%) of developing this condition than a non-smoker.
An uncontrolled diabetic has a much higher chance of developing the condition.
DRY SOCKET SYMPTOMS
Patients show the following symptoms:
Severe pain in the region of recent extraction.
The pain is severe and might not decrease with medication.
Gum swelling around the area of the extraction.
Few patients might experience fatigue, along with pain.
WHAT DOES DRY SOCKET LOOK LIKE?
Patients often experience severe pain from 2 days after tooth extraction.
Generally, the pain has to decrease after tooth extraction. Instead, the intensity of pain gradually increases.
An ideal healing socket should have tissue debris over it. Instead, you might see a patent extraction socket.
Moreover, the socket will be devoid of any blood clot, and the barebone is seen inside the cavity.
PICTURE SHOWING HEALING OF A NORMAL SOCKET
PAIN IN ALVEOLAR OSTEITIS
Pain in the dry socket is entirely different from normal tooth pain. Usually, we see a decrease in pain two days after tooth extraction.
Surprisingly, pain starts to increase from 2 days after tooth extraction .
The intensity of pain is much severe than regular tooth pain.
WHAT DOES DRY SOCKET FEEL LIKE
Patients might feel severe pain. The pain is often unbearable and is much severe than normal tooth pain.
Patients often feel difficulty in mouth opening with a recent history of tooth extraction.
WHAT CAUSES DRY SOCKET
Usually, after extraction, the blood in the socket will form a clot and prevents further bleeding.
The blood clot stabilizes with an hour and forms a durable roof above the socket. It prevents harmful substances from entering into the socket.
In the case of alveolar osteitis, the clot gets infected and gets dis-integrated. Hence, the bone surface is devoid of its cover now.
As a result, the nerve endings in this region get sensitized and produce severe pain.
Hence, proper maintenance of the socket after a tooth extraction is essential. Improper handling of this region can result in a dry socket infection.
In this regard, I would always request you to follow the instructions given by your dentist to prevent such mishaps.
Moreover, diabetic patients are more prone to this condition, than others. Hence patients with uncontrolled diabetes have to maintain proper blood glucose levels.
Failing, in doing so, might aggravate the condition.
PICTURE SHOWING THE FORMATION OF ALVEOLAR OSTEITIS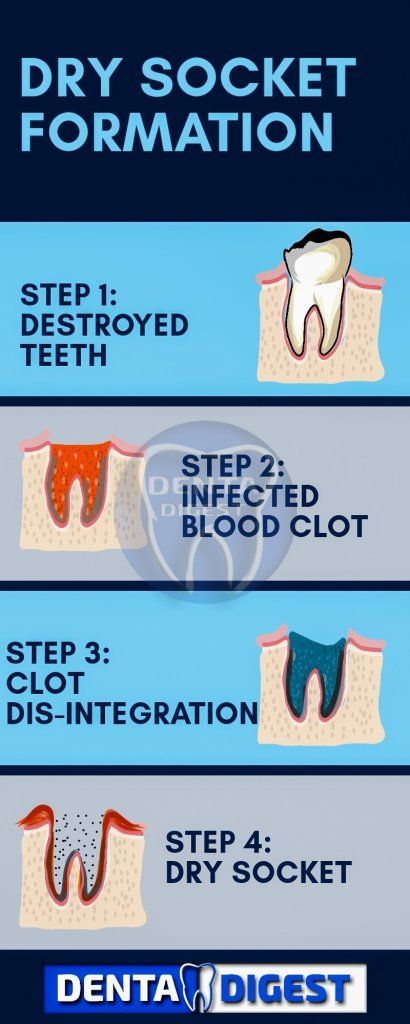 HOW DO YOU KNOW IF YOU HAVE DRY SOCKET
Patients often ask me, "HOW DO I KNOW IF I HAVE DRY SOCKET?".
Usually, pain should decrease after tooth extraction. Instead, if pain increases with time, it might be due to a dry socket.
In such a situation, you may find a barebone without any debris or slough over the socket.
A healing socket will always have the right amount of coverage over the site.
WHO GETS A DRY SOCKET?
Not everyone gets alveolar osteitis. Patients with uncontrolled diabetes, along with other medical conditions, might stand a higher chance.
Further, a patient who does not maintain his extraction site properly and doesn't follow the dentist's instructions might be prone to this condition.
DRY SOCKET IN WISDOM TEETH
The dry socket in wisdom teeth is more common than other teeth.
The chance of developing it is twice more common in wisdom teeth, than other teeth.
In simple words, it is the most common complication after wisdom tooth extraction.
HOW TO PREVENT DRY SOCKET
Here are a few essential steps :
Do not remove the cotton plug for at least 20 to 30 minutes after tooth extraction.
Avoid drinking carbonated drinks after tooth extraction.
Avoid spitting after tooth extraction.
All the above actions might result in the removal or dislodgment of the blood clot, which is vital for the initiation of alveolar osteitis.
Do not skip medication after the extraction; most cases of alveolar osteitis might result from an infected blood clot, which disintegrates with time.
Do not smoke for at least a week after extraction.
WILL ALVEOLAR OSTEITIS HEAL ON ITS OWN
No, alveolar osteitis arises due to disintegration or due to a lack of blood clot formation. Hence, it may require medical intervention.
Your dentist might induce bleeding artificially. Along with it, he might place a soothing substance to get relief from pain.
DRY SOCKET TREATMENT
The common question from these patients is "DOCTOR! HOW TO FIX DRY SOCKET ?".
Manging a dry socket is a tough job. I have seen many blogs writing about managing alveolar osteitis at home.
But, I think a dental visit is vital and necessary. All the home remedies work as adjuvant therapies to primary dental treatment.
Hence, my advice is to visit your dentist in case of alveolar osteitis. Your dentist might check the region of tooth extraction for any signs of infection.
In a few cases, your dentist might advise a radiograph for any residual infection. After confirming it as an alveolar osteitis, he or she may pack with a ZOE pack (zinc oxide eugenol pack) or a gelatin sponge.
Secondly, the doctor may induce bleeding in the socket to promote blood clot formation.
10 BEST HOME REMEDIES FOR DRY SOCKET
I have a straight forward advise for it. Before you do anything at home, I encourage you to have a thorough dental examination.
Your dentist is the best person to analyze the situation and propose the necessary treatment.
Manage dry socket by these 10 best remedies.
Using over the counter pain medication
Use warm saline water gargling thrice a day
Do not rub the region with your finger. It can severe the condition.
Do not over brush the region.
Do not use any type of volatile cooling sprays over the region. Caution: Never use pain balms over the gums. It can lead to severe gum and facial swellings.
Clove oil soothes the gum tissues and aid in decreasing the pain. SHOP FOR CLOVE OIL.
Smoking can delay healing. Furthermore, it can increase the severity of the dry socket. Hence better to stop smoking at least for a week after tooth extraction.
Aloe vera gel acts as a natural steroid and helps in decreasing the inflammation. SHOP FOR ALOE VERA.
Turmeric is effective in increasing the rate of healing. Moreover, it has anti-bacterial properties. Applying turmeric oil over the gums can aid in fast healing. SHOP FOR TURMERIC.
Use non- alcoholic mouthwashes twice a day (morning and evening after brushing). As chlorhexidine is bactericidal, it helps in preventing or decreasing the infection. SHOP FOR MOUTHWASHES.
CONCLUSION:
Prevention is better than cure. Pain during dry socket is unbearable. Moreover, it creates psychological trauma.
I think this article might give a possible solution to your problem. Have any doubt left in your mind? Kindly comment below. We are happy to help you.
Latest posts by Dr. Kiran
(see all)