How do I know whether my teeth require a filling or root canal? Do you have the same question?
Every patient will encounter this question before going for dental treatment to tooth pain.
All teeth may not require a root canal. But how does a dentist decide the right treatment for my teeth? Moreover, how do I know that my dentist has taken the right decision?
I know that the above question is bothering you. That is the reason why you are here today.
Table of Contents
Take the first step to a better Oral health!
Get tips on Oral health and discover ways to improve your Dental health. Sign up today
Subscribe to Blog via Email
UNDERSTANDING TOOTH PAIN
Most of the dental insults cause tooth pain. But all dental illnesses may not require root canal treatment. On the other hand, all dental pains might not decrease by dental fillings.
The right treatment at the right time produces the correct result.
Every tooth contains a central portion called the pulp. The pulp contains nerves and blood vessels.
Every tooth contains pain receptors called nociceptors. As a result, any insult on the teeth is sensed as pain.
In simple words, teeth do not have any other sensation other than pain.
On touching hard on teeth or
on applying heat over teeth or
If you use cold or
If you destroy the teeth,
The teeth will sense all the above actions only in the form of pain.
Hence try to understand that all pains might not require dental treatments. Moreover, all dental illnesses might not requite root canal treatment.
WHEN DO I REQUIRE A DENTAL FILLING?
Every tooth contains three layers—the outermost layer called Enamel, followed by dentin and pulp.
The painful teeth contain dental caries involving only the superficial layers like enamel, dentin, or both, but not including the pulp.
Such patients experience mild to dull pain which is periodic and stays for a few seconds to minutes. For example, the most common complaint by the patient would be "pain only while eating sweets."
Moreover, he says that pain would stay for only a few seconds after eating sweets, and the intensity of pain is mild.
The ideal treatment for such teeth with dental caries involving enamel and dentin is dental filling.
Your dentist might initially take an X-ray to find the extent of caries. Above it, if the X-ray reveals caries involving only enamel and dentist, your dentist might opt for a typical dental filling.
WHEN DO I REQUIRE A ROOT CANAL?
If my teeth contain dental caries involving all the three layers or even near to the pulp, I may be a potential person for root canal treatment.
Usually, in such a condition, I may experience severe and continuous pain, which relieves only after taking medication.
"pain at night time," is a classic sign we see in such patients.
Moreover, such dental pain may require root canal treatment. So, your dentist might take an X-ray to define the position of dental caries in your teeth.
If the x-ray shows caries almost near to pulp or involving the pulp portion of teeth, your dentist may advise root canal treatment without any hesitation.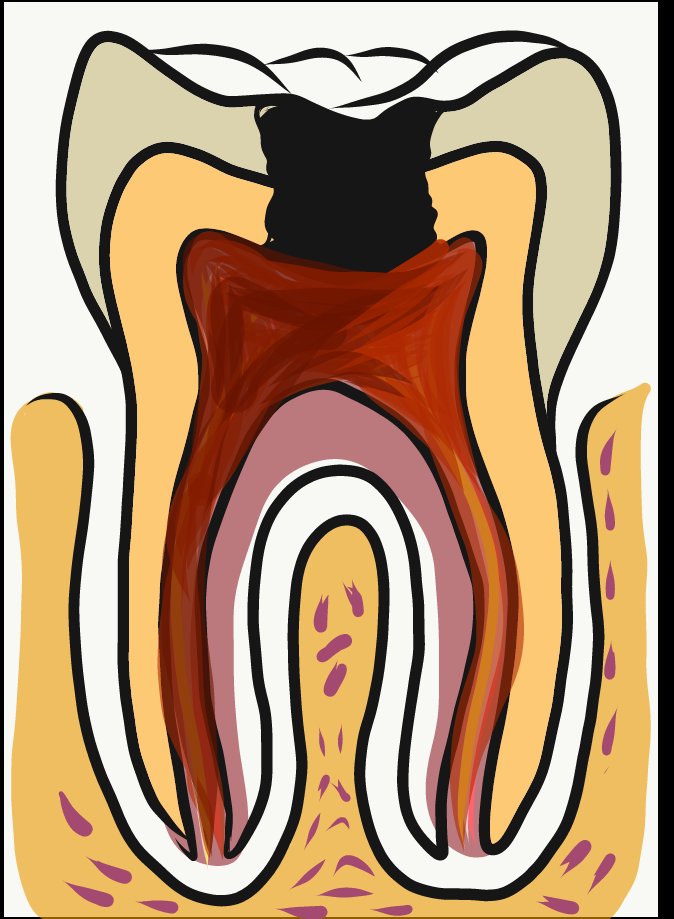 CONCLUSION
Your dentist should decide whether to have a dental filling or a root canal. He is the right person to judge the proper treatment.
You may ask what if I do not follow his decision. Of course, it is up to you. Let me explain it with an example.
Instead of a root canal, if you opt for a dental filling, the result might be devastating—such treatment results in severe post operative pain and swelling.
Hence in case of doubt, talk with your dentist and obtain all the possible information from him regarding your treatment decision.
TAKE AWAY
The final take away of this post is as follows.
Prefer dental filling:
When pain is mild
When you feel sensitivity instead of pain
Pain stays for small-time
The pain only while eating something or during eating or drinking cold or hot fluids.
Prefer root canal treatment OR RCT:
When you experience severe pain
When pain stays for a longer duration
Severe pain during night time
Increase in pain while eating or during food stuck between teeth.
Latest posts by Dr. Kiran
(see all)