Your dentist may recommend that you have antibiotic prophylaxis (also known as a dental premedication) before your scheduled dental treatment. In case they need this medication, patients need to understand what it means in dentistry.
What is antibiotic prophylaxis?
Antibiotic prophylaxis is taking antibiotics prior to any surgery or other procedure that could release large amounts of bacteria into the bloodstream (bacteremia). This helps reduce the risk of infection in other parts of the body. Large numbers of bacteria can enter your bloodstream from dental procedures, such as tooth removals.
There are some heart conditions that are prone to infections by these bacteria. Patients with prosthetic joint replacement surgeries such as knee or hip replacements are the most common target population. The bacteria produced during various dental procedures are normally killed by the immune system, but antibiotic prophylaxis can offer additional protection.
For people with heart conditions, the American Heart Association (AHA), recommends that antibiotics are used before any dental procedures.
Take the first step to a better Oral health!
Get tips on Oral health and discover ways to improve your Dental health. Sign up today
Subscribe to Blog via Email
Who should receive antibiotic prophylaxis
Prosthetic parts are often carried in the body by people. These people are more susceptible to infection from dental treatments. Two groups of population are more susceptible to infection during dental treatment.
People with heart conditions may be more susceptible to developing endocarditis.
Prosthetic joints can pose a risk to those who wear them.
Antibiotic prophylaxis in patients with prosthetic joint replacements
The American Dental Association (ADA) experts shared their opinions in an article regarding antibiotic prophylaxis for patients with joint replacements. After a thorough examination of the patient, and consideration of the risks and benefits of antibiotic use, the dentist and concerned Orthopedician should decide whether to prescribe antibiotics or not.
In 2015, the ADA Clinical Guidelines stated that "prophylactic antibiotics should not be used prior to any dental procedure to prevent prosthetic joints infection."
However, they noted that premedication may be necessary for patients with previous medical conditions or complications related to joint replacement surgery.
Prophylactic antibiotics are not recommended for patients with good medical conditions or patients who have a perfect immune system. Such Patients undergoing surgical dental procedures should consult their orthopedic surgeon before deciding to use antibiotic prophylaxis.
Antibiotic prophylaxis in patients with heart problems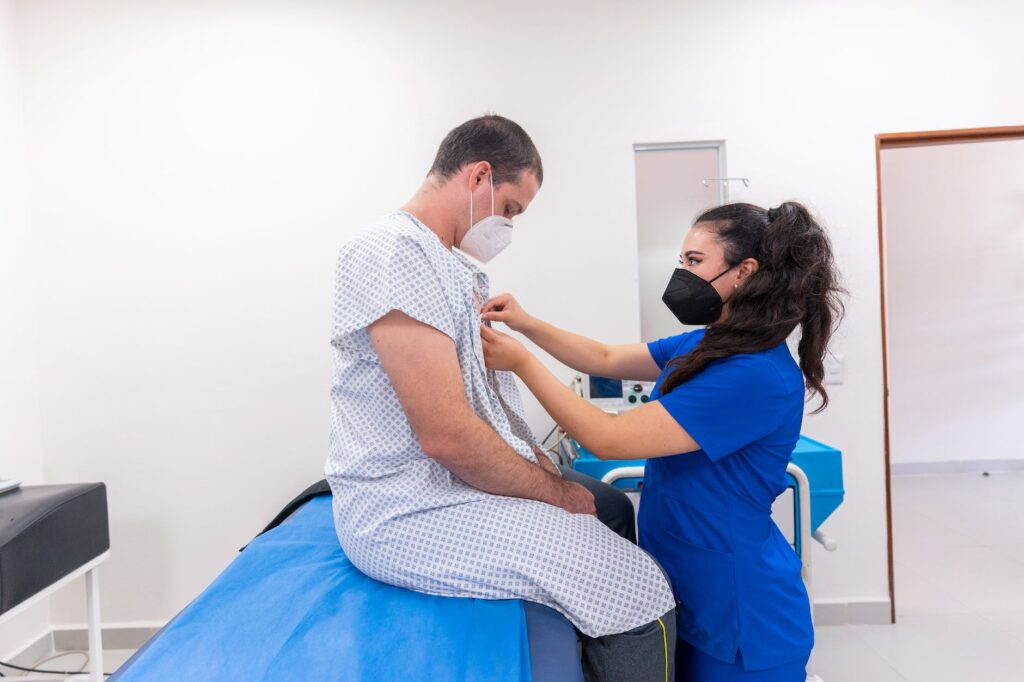 People who are at high risk of developing infective endocarditis from oral bacteria are frequently exposed to it during their daily routines, such as flossing and brushing.
The American Heart Association (AHA) has said that infective Endocarditis Prophylaxis will continue to be recommended for patients at high risk of adverse outcomes in 2021. This statement is consistent with the American heart association's 2007 guidelines.
AHA recommends that the following patients should consider antibiotic prophylaxis prior to receiving dental treatment.
prosthetic cardiac valves, including transcatheter-implanted prostheses and homografts.
Prosthetic material used to repair cardiac valves, such as annuloplasty rings or chords.
Patients who have had infective endocarditis.
Patients with cardiac transplants with regurgitation caused by a structurally abnormal or defective valve.
Congenital (present at birth) heart disease patients.
Patients with unrepaired cyanotic heart disease.
Patients who have a congenital defect in the heart that has been repaired with residual shunts, valvular regurgitation or at the site or near the site where a prosthetic patch is placed or another prosthetic device.
Children's antibiotic prophylaxis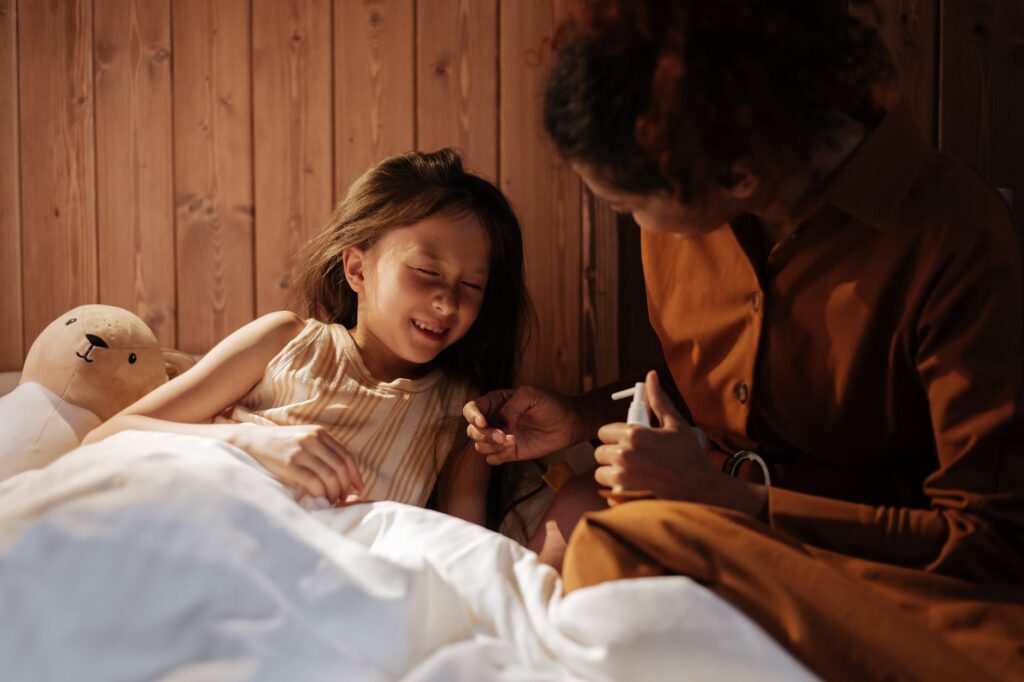 Children with congenital heart disease are at greater risk of getting infections from dental work. Children with congenital heart problems should be advised to take antibiotic prophylaxis prior to any dental treatment.
Cyanotic congenital cardiac disease (birth defects that have oxygen levels below normal) is not fully treated. This includes children who have had surgical shunts or conduits.
Children who have a congenital heart defect, who got completely repaired using prosthetic material, are more prone for infections, from dental treatments. Hence they should consider using antibiotic prophylaxis.
Children with congenital heart disease that has been repaired, might have residual defects such as persistent leaks or abnormal flow near or at the prosthetic patch. They are at high risk of developing infections from dental treatments.
What is the dosage for antibiotic prophylaxis?
The following table is based on an article by AHA published in 2008. It describes the recommended antibiotic regimen for dental procedures.
The AHA scientific declaration on the prevention of infectious endocarditis has changed its recommendation to stop the use of clindamycin in patients with penicillin allergies.
AHA recommends that individuals with penicillin/ampicillin allergies and who can tolerate oral medication be given cephalexin (or any other first- or second-generation cephalosporins), azithromycin, or clarithromycin as an alternative.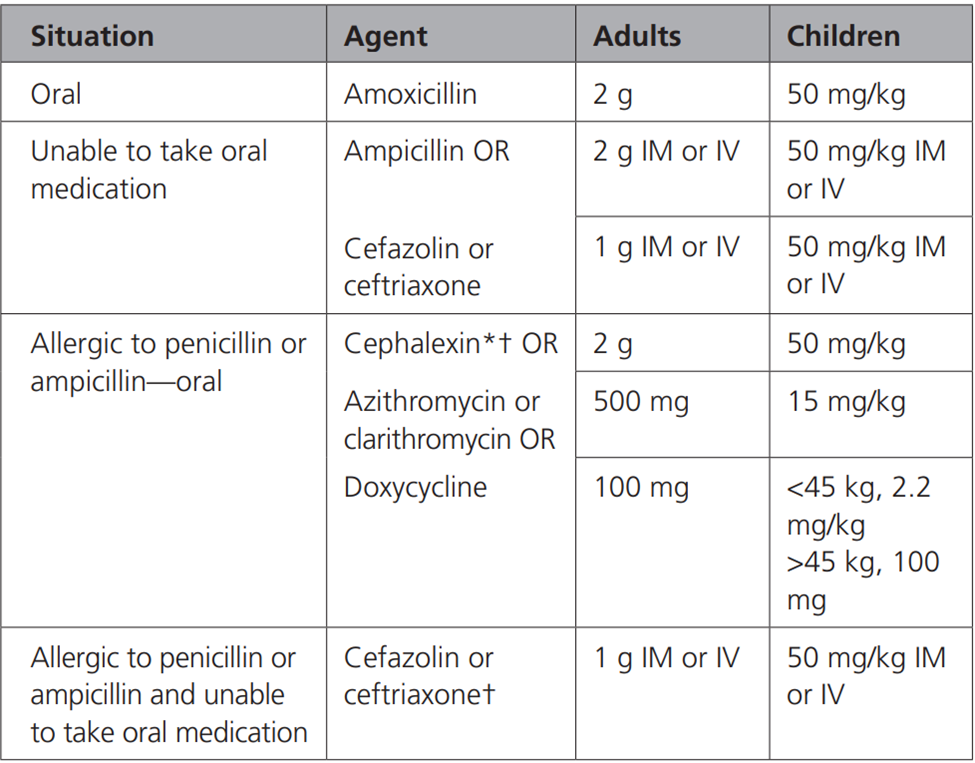 What happens if the patient is not premedicated with antibiotic prophylaxis?
Sometimes patients forget to take their medication before they arrive at the appointment. The antibiotic dosage can be given up to two hours after the procedure if the patient forgets to take it.
A patient who has an indication for antibiotic prophylaxis and who was given antibiotic premedication before a dental procedure, but is scheduled for another dental procedure, the next day, also requires premedication. He or she should have the prophylaxis regimen repeated before the second appointment also.
What should you do if the patient is currently taking the same antibiotics as for another treatment?
The dentist will choose an antibiotic from a different category than the one that the patient is currently taking. If the patient is already taking amoxicillin, then the dentist should choose clarithromycin or azithromycin as prophylaxis.
Is there any condition that Antibiotic prophylaxis does not apply to?
According to AHA, these conditions don't require Antibiotic Prophylaxis.
Implantable electronic devices, such as pacemakers or similar devices.
Devices to close septal defects when they are closed completely
Peripheral vein grafts, patches, and those used for hemodialysis.
Stents for the coronary artery or other vascular stents.
CNS ventriculoarterial shunts
Vena cava filters
Pledgets
Conclusion
Patients should practice good oral hygiene, brushing twice daily and flossing at least once daily. To keep their mouth and bodies healthy, patients should follow the advice of their healthcare professionals. To determine if premedication is necessary prior to having your dental procedure, please consult your primary care physician, your cardiologist, or your orthopedic surgeon.
Latest posts by Dr. Kiran
(see all)