DENTAL IMPLANT RESTORATION
I see many patients with apprehension when it comes to dental implant restorations. Doctor! Do they hurt? One of the most common question by my patients. Relax! It is more of a painless procedure than you think.
Doctor! Are implants better than dental bridges or crowns? Can I go for implants instead of a Root canal? Are you going to place a screw in my jaw? How do they function? Is there any guarantee? What is the life span of dental implants?
Wait! I know you have many questions in your mind. It is the reason why you are here today. Do not worry! You are in the right place.
UNDERSTANDING DENTAL IMPLANTS
Opting for dental implants is not as easy as you opt for dental crowns. Dental bridges are barely a cosmetic procedure where you grind the teeth and place the crowns. But, implant restoration is a surgical procedure entirely different from bridges or crowns.
Take the first step to a better Oral health!
Get tips on Oral health and discover ways to improve your Dental health. Sign up today
Subscribe to Blog via Email
While dental implants are more of a complicated procedure to understand, knowing what to expect from the treatment will give you a sign of relief and confidence. After all, this is what I expect a patient should know before implant restoration.
WHAT IS DENTAL IMPLANT RESTORATION
Implant restoration is a process of restoring an implant in the place of a destroyed or missing teeth.
Every dental implant restoration contains 3 important parts. They are the implant, The abutment and The restoration/crown.
The implant is a screw-like material made up of titanium and is inserted into the bone. On the other hand, an abutment is a supporting structure on which the crowns rests.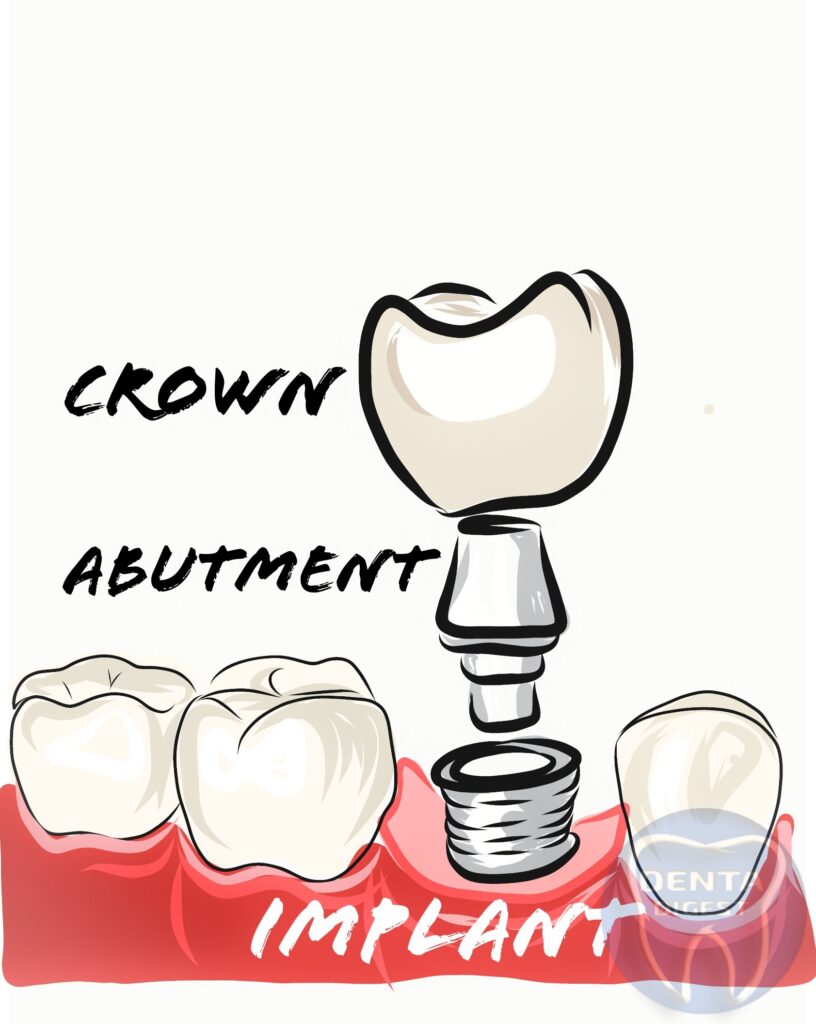 At times patients become worried about their implants, as they find it difficult to understand the entire procedure of implant restoration.
Here is a quick guide describing the entire process of implant restoration.
CLINICAL EXAMINATION
On the first day of your visit, your dentist might check the teeth and oral cavity.
He may ask for your medical conditions, like diabetes and hypertension. Further, he may advise for few investigations to confirm it. Knowing the diabetic status is essential in planning implants.
An uncontrolled diabetic is not an ideal person for dental implants.
The reason:
Patients with uncontrolled diabetes are prone to excessive bone loss. As a result, they might have a condition called periodontitis. Implants in them don't have a long life due to minimal and weak bone support.
PRE-TREATMENTS TO DENTAL IMPLANT RESTORATION
Before placing implants, your dentist might plan some pre-treatment protocols to ensure a smooth process of implantation. They include
Restoring caries affected teeth.
Oral prophylaxis or chairside cleaning of teeth
Removing undercuts in teeth that might interfere with implant placement.
Your dentist might take Impressions of the teeth in both the upper and lower jaw.
X-RAY SCANS
X-ray scans play a crucial role in assessing the quality and quantity of bone in your jaw.
Your dentist might advise a CBCT (cone beam computed tomography) scan for planning implants in your teeth.
A CBCT scan helps in determining the following things
No of implants to be placed
Suitable regions in your jaw for placing implants
The amount of bone available (height and width) for placing implants
The length and diameter of the implants
SURGICAL GUIDE PREPARATION
So, once your dentist plans the region and size of implants, his next mission is to prepare a surgical guide.
A surgical guide is a template that assists your dentist in the incorrect placement of the implant.
In simple language, it contains tubes aligned in the plane of your planned implants. Your doctor has to place implants within the tube that aid in proper placement.
Moreover, before the actual surgery, your dentist might place implants virtually on your scans to check their proximity to vital structures. Virtual implant planning is necessary to recheck the reliability of one's plan.
In simple words, to know whether the dentist has done correct planning, he rechecks the scans by virtually placing the planned implants into your CBCT scans.
DENTAL IMPLANT RESTORATION: FIRST SURGERY
TOOTH EXTRACTION
In most instances, your dentist will remove the damaged teeth and place implants on the same day. If you don't have any teeth or if you lost teeth much earlier, then this step is bypassed.
IMPLANT PLACEMENT
So, the next step is placing the implants in your teeth. Some dentists prefer surgical guides, while others may not.
If your dentist uses a surgical guide, he may place it on the teeth.
He drills the bone along the vents provided in the guide. The surgical guide helps in locating the right place, precise angulation, and exact depth to be drilled in your bone.
SUTURING FOR HEALING
Once, after placing implants, your dentist might suture the gingiva to cover the implants.
OSSEO-INTEGRATION
After placing implants, your dentist might advise you not to disturb the region for a period of 2 to 3 months. This phase is called OSSEO-INTEGRATION. During this phase, new bone forms around the implant. Now the implant becomes a part of the bone.
Note: Some dentists might use DIRECT LOADING IMPLANTS, where your dentist might place a provisional crown on the same day of dental implant restoration. Moreover, these teeth are partially functional. It shortens the treatment time and eliminates the need for multiple visits.
BUT, IT ALL DEPENDS ON YOUR DENTIST. HE IS THE RIGHT PERSON TO JUDGE THE RIGHT IMPLANT FOR YOU.
SECOND SURGERY
COVER SCREW
So, after 2 or 3 months, your dentist might call for an appointment. He performs the second surgery now.
He uncovers the implants that lie below bone. By this time, the implant and bone form a strong bond.
Your dentist removes the lid of the implant, which is a COVER SCREW.
HEALING SCREW
The next step includes placing a gingival former or a healing screw. The healing screw shapes your gingiva around the implant for a natural look.
The healing screw might take 7 to 10 days to shape the gingiva around the implants. Hence your dentist might set the next appointment after ten days.
ABUTMENT
So, after ten days, the dentist replaces the healing screw with a tooth analogue called ABUTMENT. It is a supporting structure that bears a crown on it.
IMPRESSION
The next step in dental implant restoration is to take an impression of the jaw bearing implants and abutment.
Your dentist sends these impression models to a dental lab, where the crowns are prepared.
CROWN PLACEMENT
Once the crowns reach your dental clinic, your dentist might call for an appointment where he fixed the crown on to your implants.
Viola! Now you have a fully functional crown on an implant. These teeth are more aesthetic than artificial crowns and are on par with natural teeth in terms of strength and function.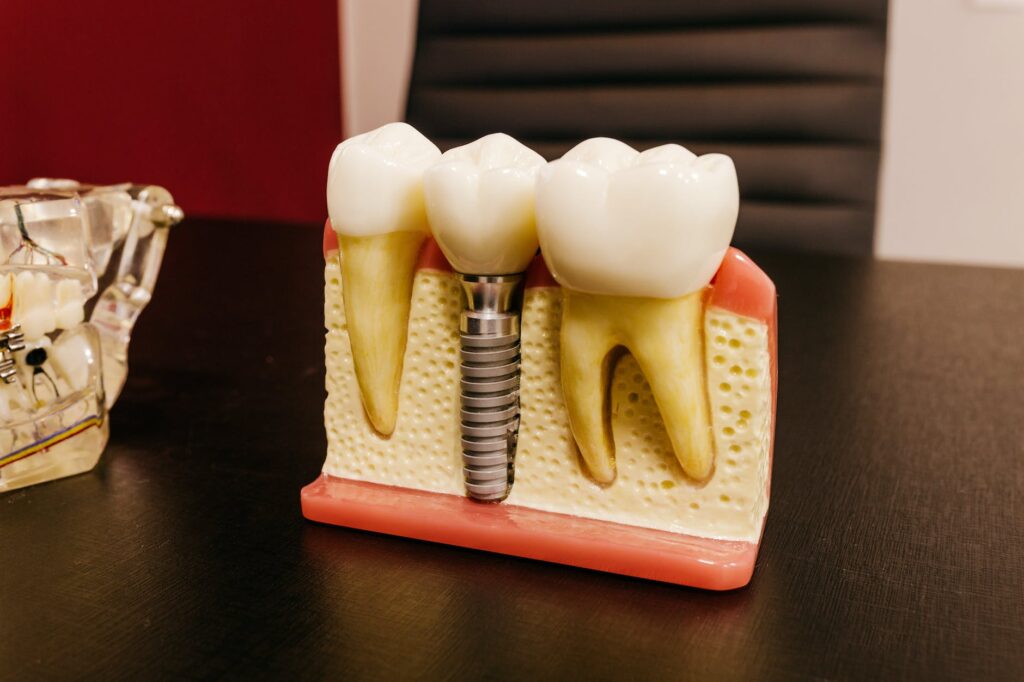 The entire implant restoration procedure is shown in the video below
COMPLICATIONS WITH DENTAL IMPLANTS
Do dental implants carry complications? The answer is Yes!
There are no dental procedures that are 100% safe. Dental implant restoration does carry some inherent risk. Let us understand in detail.
Medical problems
Not all patients are suitable for dental implants. The implants are best for a few sets of people who are almost free from all medical complications. We find such people rarely in the ages above the 40s.
People with uncontrolled diabetes are not suitable for dental implants. The reason could be the excessive bone loss seen in them. Such people have accelerated bone loss and early mobility of teeth. So, an implant is not a wise option.
People under anti-coagulants must be under supervision during dental implant restoration. There is every chance of internal bleeding which you cannot neglect. Moreover, patients with kidney failure or liver failure do carry a proportionate amount of risk while placing implants.
Infection at the implant site
Oral hygiene is a vital factor in predicting the longevity of an implant. Patients with poor oral health have more chances of infection at the implant site, which is called Peri-implantitis.
It is a condition where the infection spreads along the border of bone and implant and makes the implant non-viable and mobile.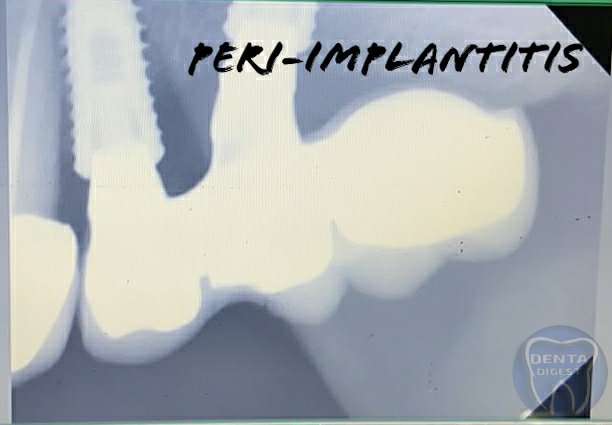 A less vascular bone (commonly seen in older adults) have good chances of getting peri-implantitis.
Inadequate bone
An adequate bone is the primary requisite for the more excellent stability of an implant. If you don't have sufficient bone, you might not be an ideal person to have dental implants.
An excellent qualitative and quantitative bone is necessary for implants to stay for more extended periods.
Vital structures near the implant
During implant planning, your dentist might take all the necessary precautions to prevent damage to the adjoining crucial structures like nerves, maxillary sinus (for upper implants), and adjacent teeth.
In spite of all the precautions, sometimes the vital structures might get damaged. In most cases, these damages are temporary, and the patient can recover within a short period. But permanent injuries might require surgical intervention.
Implant rejection
It is a significant setback in implant restoration. No one can judge whether your body accepts the implant or not. In a few cases, the implant might come out at the time of the second surgery. It is called implant rejection.
A specific reason for implant rejection might be challenging to say. The patient has no other option other than waiting for another three months to set a new implant in the same position. Even an experienced dentist cannot predict this.
Finally, this is a simple video which explains the entire 2-step procedure for dental implants.
FAQs
ARE IMPLANTS BETTER THAN CROWNS?
Yes! Implants are better than conventional crowns and bridges. In crowns and bridges, you might destroy or trim the crown portion of natural teeth to accommodate the artificial top.
In real terms, you are destroying natural teeth. But, in implants, only the bone in a missing teeth region is used to stabilize them. Moreover, the adjacent teeth are not disturbed.
Hence if you take in terms of conservative treatment, dental implants are teeth preserving procedures. But, on the other hand, dental implants require extensive surgery during its placement, which is not the way with dental crowns.
Moreover, dental crowns and bridges are more economical than implants.
ARE DENTAL IMPLANTS BETTER THAN ROOT CANALS?
Again a controversial question. It depends on the stage of the teeth. If a tooth is destroyed to its core and has little prognosis, then implants are a better option. On the other hand, a robust non-vital tooth should be treated with a root canal.
Your dentist might examine the tooth and decides the best treatment that suits you. So, always seek your dentist's opinion before you opt for treatment. Don't be hesitant to know your dentist's advice.
In case of doubt, have a second opinion for confirmation. But never be in a hurry and never decide yourself.
WHAT IS THE LIFE SPAN OF MY DENTAL IMPLANT?
No one can ever answer this question. The longevity of dental implants depends on multiple factors.
But, an ideal dental implant can stay for life long. Proper osseointegration can make an implant function for the whole life.
WHAT IS THE PRICE?
Dental implants are costly compared to conventional crowns. But the price of this procedure varies according to the treatment you opt. A single implant may cost you somewhere $3000 to $3500 dollars.
The implant restoration procedure may require a single implant or multiple implants. It may range from 4 to 6 implants. If your dentist prefers 4 implants it is called All on 4 implant procedure.
The implant restoration cost may vary according to the number of implants you choose or your dentist prefers.
Latest posts by Dr. Kiran
(see all)